Adopt a Jack Russell -
JRT Rescue Dogs


Want to adopt a Jack Russell? This page features Jack Russell rescue dogs from around the world in need of a good home. Take a look at these featured dogs - one of them may soon become your new best friend.If you're considering adopting a Jack Russell, you'll save yourself a lot of learning time and emotional stress by reading my complete guide to Jack Russell training.
Adopt a Jack Russell
Click on the logo below to find a Jack Russell Terrier or mix near you to adopt. Why find a Jack Russell Terrier for sale or Jack Russell Terrier puppy for sale when you can find a Jack Russell Terrier rescue? See photos of cute Jack Russell Terriers to rescue in your area. You can search Jack Russell Terriers for adoption by area, sex & age.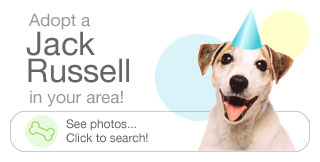 Consider that:
-25% of pets in shelters are purebred. - Approximately 4 million pets are put to sleep each year due to overpopulation. - Adopting from a shelter or rescue group saves a life!
Although puppies are cute, there are advantages to adopting older dogs. Shelter dogs are often already housetrained and 'Jack Russell Terrier' rescue groups can tell you if their adult dogs for adoption are housebroken before they go into your home.
Adult Jack Russell Terriers have a much longer attention span than puppies, too, which means they're easier and faster to teach. Adult dogs already have recognizable personality traits, so you'll be able to select one who is great with children.
When you adopt an adult dog, you are doing the ultimate good deed. Let's face it: at first a lot of people think they want to find 'Jack Russell Terrier' puppies for sale, but not everyone is lining up to adopt the great adults! Some people might have the misconception that Jack Russell Terriers in shelters have something wrong with them. In fact, most Jack Russell Terriers for adoption end up in shelters not because of any problem with pet behavior or health issues, but because they were dropped off by someone who simply didn't have the time or money to care for the animals. In some cases pets are lost and never found by their owners. These animals are healthy and very eager to please.

Leave Adopt a Jack Russell and Return to Jack Russell Rescue
Leave Adopt a Jack Russell and Return to Jack Russell Lover Home